PLAYER OF THE SEASON 2017-18 VOTING is closed
AGM Saturday 21st July at the Paternoster nr St Pauls details
World Cup Walk in the footsteps of Wolfie Sat 30th June details
Pre-season friendlies - Switzerland 2018 - Travel details
London Wolves flags at Molineux 28th April 2018 details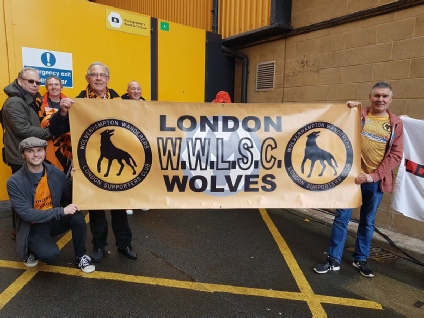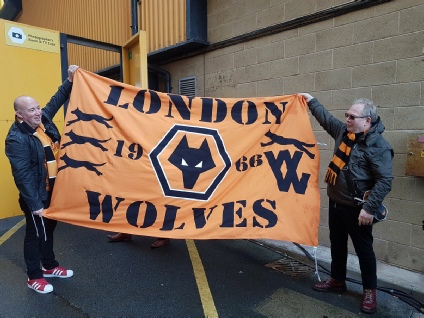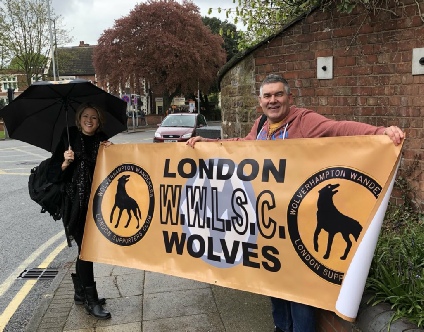 London Wolves on Tour (pic Lynne) (masochists in Sunderland)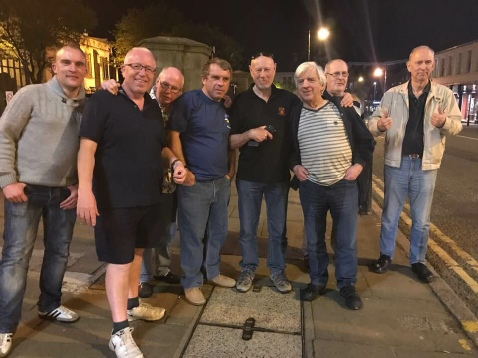 Next Committee Meeting - Thursday 12th April 2018 7pm at the
Rose of Denmark 226 Woolwich Road Charlton 200m from the station
THE PACK IS BACK!
Thanks to Brentford and friends at @Beesotted with 94th minute goal v Fulham
Wolves are again Premier League - pix Sky & Tim Spiers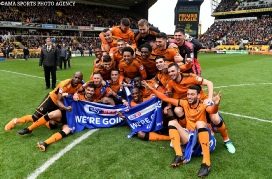 Nuno agreed the 2017-18 Meet the Players and Dave Slape arranged this for Friday 23rd February before the Fulham match Our thanks to Matt Wild Jeff Shi and Laurie Dalyrymple Pix on Facebook and the members' only website here
We offer discounted travel and match tickets from London to home and away Wolves matches + social events. Membership info & form click here
travel page Contact Peter Woodifield for travel tickets email
Londonw Wolves Meet the Players 23

rd

February 2018

Home match for Abbswolf and Jenny celebrating a 1-0 win over Mick McCarthy's Ipswich Town (pic MarkF)

Our thoughts are of @fozzielovegod John Hendley Wolves historian
Wolves tribute video on YouTube

London Wolves presentation to Wolves Women 20Jan2018 more pix Molineux Bluebrick



Dave made Twittersphere headlines after sending the Burton Bridge Inn staff a Christmas tip


FA Cup 3

rd

Round 6

th

(TBC) January home to Swansea City
Pictures of the Derek Parkin dinner October 6th which raised £6,000 http://www.londonwolves.com/socialev.html#Squeak
Contact abbswolf@ntlworld.com with questions for the WW Fans' Parliament minutes
Steve's summer newsletter is now available here
Fixture Changes 6 on tv Feb/Mar other changes
30 years ago Bully joined Wolves -
28years ago he scored on his England debut and went to the World Cup
4 Stars for Wolves - Nuno, Neves, Jota, Bonatini
Congratulations to Morgan Gibbs-White equaliser scorer in the England U17 World Cup Final 5-2 win over Spain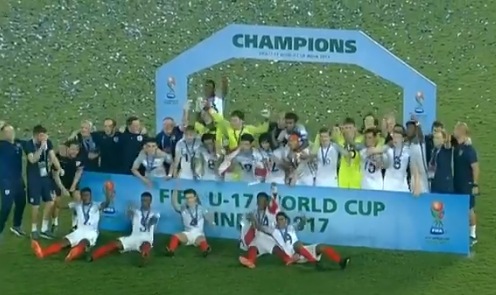 Wolves are fierce - ask the exWW at Bolton as Dave Slape takes a friend to Molineux (25/11/17) (pic Mark F who represented WWFC at a #teamKemes Nigeria fundraising evenet in Stratford)
Our best wishes go to Wolves and Nigeria #1 Carl Ikeme who is suffering from acute leukaemia (Wolves statement here). Wolves captain Danny Batth published this on instagram 9/7/17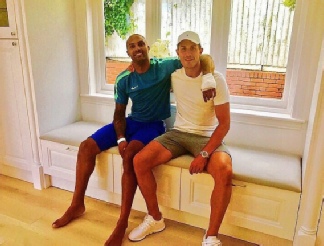 Johnny Norgrove is running the Birmingham International Marathon, 15 Oct 2017 for locally based "Cure Leukaemia" to support Wolves keeper Carl Ikeme. Please go to Nogga's page to support his run. #TeamKemes https://www.justgiving.com/fundraising/john-mary-norgrove5
Robert Goddard found the Wolves Wolf in Wolves (more pix)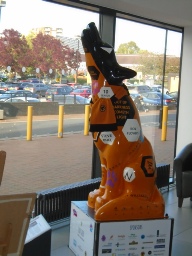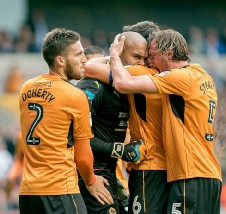 Congratulations to The Stears - now a Blade - 3 year contract
Friday 21st July London Wolves AGM Shipwrights Arms 19:30 start
The AGM decided to renew sponsorship of Wolves Women FC and Captain Anna Price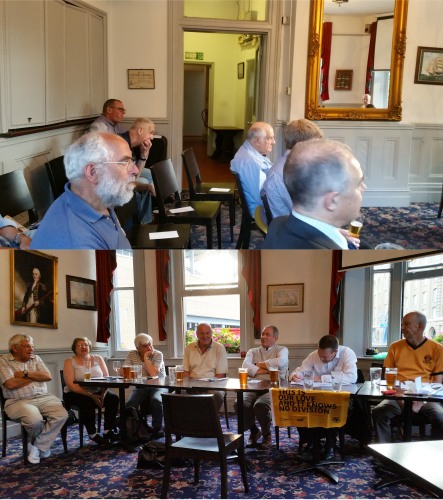 Saturday 24th June London Wolves Walk - Greenwich - pictures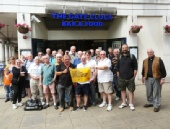 We raised a glass to "The Doog" on the 10th anniversary of his passing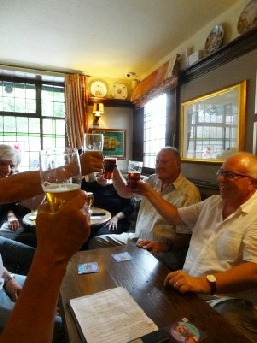 30th May 2017 Paul Lambert leaves. London Wolves would like to thank Tony Daley, Pat Mountain and Rob Edwards for all their help, expecially at the MTP. Good luck to all.
Replacement coach announced 31/5 Nuno Espirito Santo (ex Porto)
and Rui Pedro Silva (Asst) Rui Barbosa (GK coach) and Antonio Dias (fitness)
Rumours:
First signing - Roderick Miranda
Ghana Rback Phil Ofosu-Ayeh here
Centre back Ryan Bennett released from Budgies here
Barry Douglas £1m
Fixture changes: Royals (3/3) now 5:30 Sky (postponed); Leeds moves to Weds 7th March Sky; Villa [A] 10Mar 17:30 Sky; Boro to Good Friday, now 5:30 on Sky
Hull CIty now Tue 3 Apr 19:45 (not Sky) Cardiff (A) to Fri Apr 6 19:45 Derby (H) to Weds 1 Apr 19:45 (Sky); Blues (H) to Sun 15Apr now noon on Sky
PSFs:
Weds July 12 Wolves v Werder Bremen – 6pm KO
– Parkstadion – Zell Am Ziller
for coach transfer from Munich contact member Mark Griffiths
Sat 15 July 6pm FC Viktoria Plzen Jenbac
Tue 18 July 6pm FK Jablonec Kematen
Sat, July 22nd (3pm) at Shrewsbury (N.B. this is all ticket)
Tues, July 25 (7:30pm) Peterborough Utd
Saturday, July 29th (3pm) Molineux v ex PL Champions Leicester City
Season kick off Saturday 5th August 2017
EFL Cup round one at home to Yeovil Tues 8th August 7:45ko tbc
Diary dates: . . .
Friday 21st July London Wolves AGM Shipwrights Arms 19:30 start
Wednesday 28th June WWFC Formers Players' Assn Dinner £53-£60 book with Peter Woodifield
Saturday 24th June London Wolves Walk in the Greenwich area - meet at "The Gate Clock" 11am
Saturday 6th May Roy's end-of-season at the Fox Inn Shipley (pictures on main site)
14 May Wolves Women are promoted in the FAWPL to the Northern Division as Champions
London Wolves are pleased to sponsor Wolves Women and offer warm congratulations on their promotion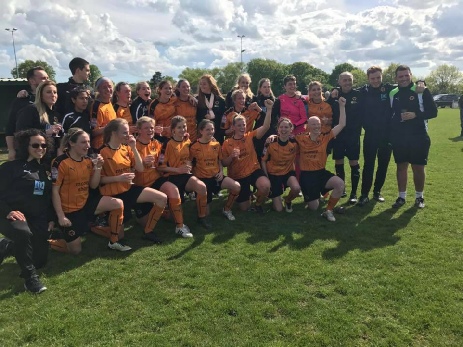 Sun 7th May - Fan's Parade - Wolves 1 Batth 1' Preston 0 - before the match London Wolves joined the fans' flag parade and guard of honour (arranged by Peter A and Dave S) featuring Steve & Pam Tetlow, Alan H, Rob Mallett and Harley Bill with Mark F - for Mark's video of the teams' entrance go here https://twitter.com/20MarkF/status/861239750019231744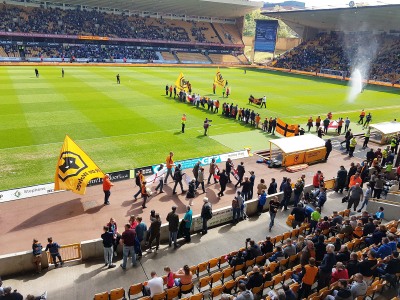 April 24th 7pm ko Last U23 PL2 Fulham 1 WW 4 highlite video
London Wolves Meet the Players pictures from Friday March 17th on main site - link here - and here's a taster
Baroness Rachael Heyhoe-Flint here Graham Taylor here
London Wolves 50th 2/10/2016 pictures here pre Leeds and post Leeds
Our thanks to Richard Skirrow (Club Secretary) for his support for the last 20 years and to Paul Richards (WW Head of Safeguarding) Presentations 11th March at Molineux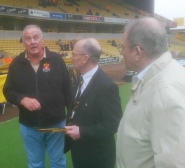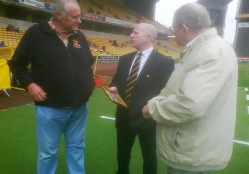 AGM Friday 21st July 2017 7:30pm
Shipwrights Arms London Bridge 88 Tooley Street London SE1 2TF minutes at www.londonwolves.com/agms.html Agenda: 1 Apologies for absence, Chairman's Address , 3 Minutes of 2016 , 4 Matters Arising, 5 Secretary's Report 6 Treasurer's Report, 7 Travel Sec Report, 8 Social Sec Report, 9 Newsletter Editor's Report, 10 Website Editor's Report,11 Election of Officers, 12 Membership fee, 13 Any Other Business
Next committee meeting Friday 21st July 7pm before AGM- 8 Mar minutes
Sky Fixture Changes: fixtures 7pmWWLSC in the media
Listen to Stuart Earl on 101.8 WCRfm
And read Abbswolf's post match comments with Tim Spiers in the Star's Fans Verdict and PeterW v Crawley here
PeterA on Reading win here and on the Tractor Boys
Too may losses - fans turning online
Congratulations to Wolves Women's first team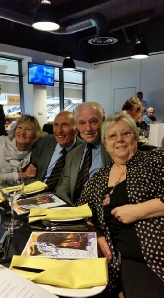 coach Anna Perks on her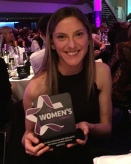 wedding 20th August 2016 And to Jade Cross Wolves Women FAWPL Golden Boot Winner
London Wolves 50th Anniversary thanks to guests Barbara and Mike Bailey and Terry & Sue Wharton
London Wolves Xmas lunch 2016 and presentation of sponsorship cheque by organiser Roy and Dave Hodges to Tim Dudding Manager and fullbacks Claire Hakeman and Jen Anslow of Wolves Women FC at Molineux pix on main site here
Here are Jen, Dodges, Tim, Roy & Claire (pic: a Bagnall)
And a Wolves Community Trust article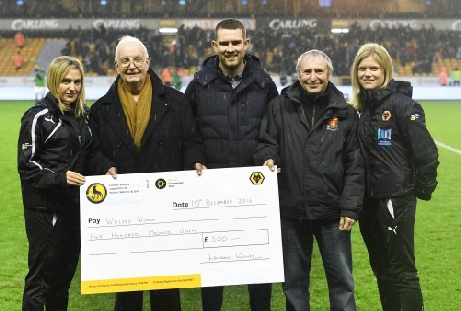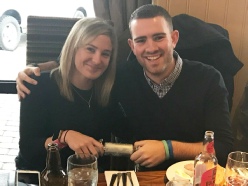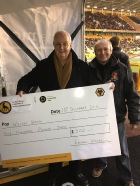 Can Wolves realistically challenge for a playoff position next season?
Paul Lambert is new Head Coach here Paul left 30/5/17
Congratulations to Paul Lambert March Manager of the month after draw+ 5 win run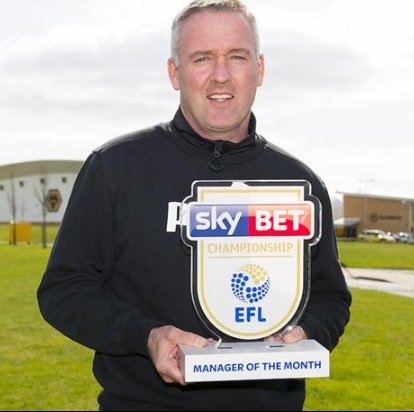 The Player of the Season trophy presentation team at Molineux with Head Coach Walter Zenga 23/9/16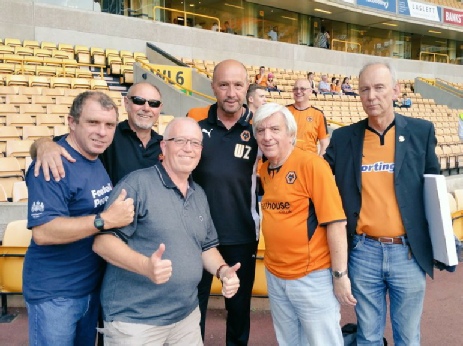 Our friends from Wolves glory days at the 50th Anniversary dinner
And a Mike Bailey article on David Instone's site here
50th Anniversary pictures are here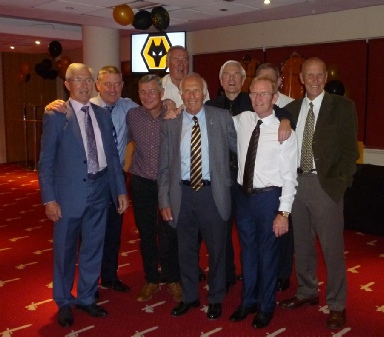 Wolves announced that Vice President Rachael died 18th January. A wonderful lady, dedicated to Wolves, Cricket and charity work always made all the fans feel special at Molineux - including these two. London Wolves pass their thoughts and prayers to Derrick and her family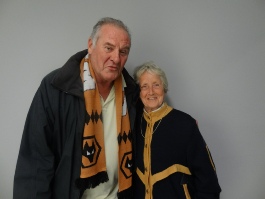 Graham Taylor Wolves Mgr 1994-95 RIP
Read Tim Spiers blog on a gung-ho season and founding the youth programme. Tributes from many former players including Froggy & Tony Daley Msc. There will be a tribute before the Villa match More here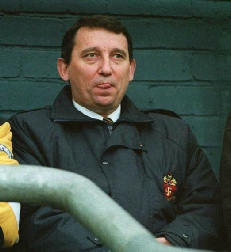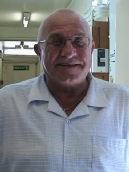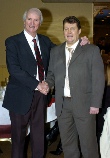 We were sorry to hear that our former Minutes Secretary and long time member Leo Mastbraker passed away Sunday 27th November 2016. Our thoughts are with his family. Leo's son Garry's school class designed the London Wolves 45th anniverary badge.
In the same week Ian "Iggy" Cartwright also lost his ten-year battle with cancer Iggy's funeral is 22nd December More on the Doog fundraising event is on the archive website at http://www.lwarchive.londonwolves.com/iggy.html
Mark attended the English Football League kick-off at Craven Cottage (2/8/2016) and staked our claim to the trophy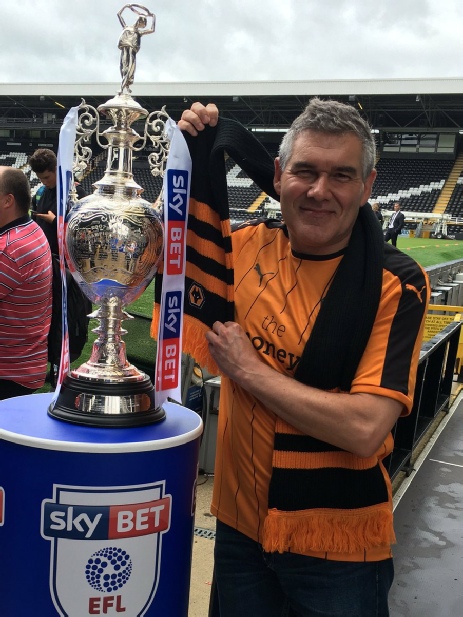 Congratulations to "Dangerous" Dave Edwards - selected to the Wales European Championships team - first Wolves player to a major championship since Bully's World Cup (excluding ACN)
Castronomic Tours ride again - London Wolves Walk
Saturday 25th June A CRAFTY CRAWL AROUND CLERKENWELL AND BEYOND WITH A BIT OF SHAKESPEARE THROWN IN! Castronomic Tours surpass themselves again - more pictures at http://www.londonwolves.com/walk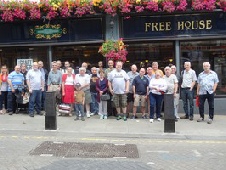 16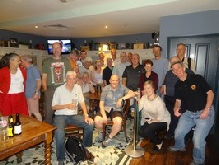 Committee Meetings Next committee meeting Friday 21st July 7pm before AGM- 8 Mar minutes
AGM The 2017 AGM returns to the Shipwright's Arms 88 Tooley Street London SE1 2TF Friday July 21st 7:30pm minutes at www.londonwolves.com/agms.html
1 Apologies for absence,
2 Chairman's Address
3 Minutes of 2016 ,
4 Matters Arising,
5 Secretary's Report
6 Treasurer's Report,
7 Travel Sec Report,
8 Social Sec Report,
9 Newsletter Editor's Report,
10 Website Editor's Report,
11 Election of Officers,
12 Membership fee,
13 Any Other Business
Wolverhampton Wanderers FC invited London Wolves members to a special 50th reception before the Rotherham match. Pix here
New Wolverhampton roadworks website here
Saturday 7th May END-OF-SEASON London Wolves go to the dogs
£16 book with Roy or Dave before Ipswich match Plus Friday night curry (and drinks at Harley Bill's)
Fixture changes:
LONDON WOLVES "MEET THE PLAYERS 2016" pictures
Wolves 2016-17 Early Bird held prices to 2005! Details
Steve Carvell is celebrated 50 years at the Golden Palace v PNE with friend Kelvin Webster and Wolves legends Ron Flowers, Terry Wharton & Mike Bailey - in the Wolves Matchday Programme - thanks to Foz &, oh yes, and that is Bully's signature and Steve pictured with Bully. More pictures on the main site at http://www.londonwolves.com/stevec50.html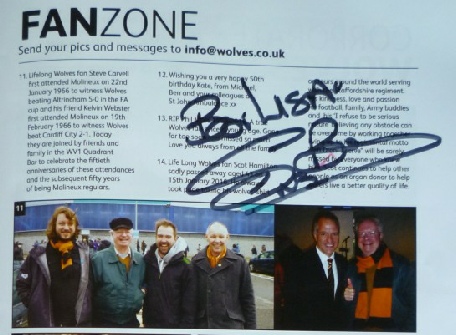 Friday 11th December 2015 London Wolves members only Xmas pictures
here

Sat 22 Nov London Wolves Burger'n'Ale celebration Burger complimentary for WWLSC members pictures here
2015 AGM Friday 31st July 7:30pm at The Shipwrights Arms 88 Tooley St SE1 2TF Minutes are here
Eo
Committee Meetings
Boxing Day Pre Charlton
7th Nov 2015 Before Burnley Bluebrick
7pm July 31st before AGM
50th Anniversary dinner was 16th July 2016 in South East London
Xmas stocking filler - shine a 1966 light on it
Roy has these London Wolves key ring torches for only £2.50
XMAS 2015 - Presentation to Wolves Women and Burger'n'Ale at the Bluebrick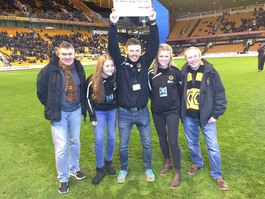 Richard Stearman was our 2014-15 Player of the season. Fulham bought him at the end of the transfer window so we had to go to Craven Cottage to make the presentation; Roll of honour on main site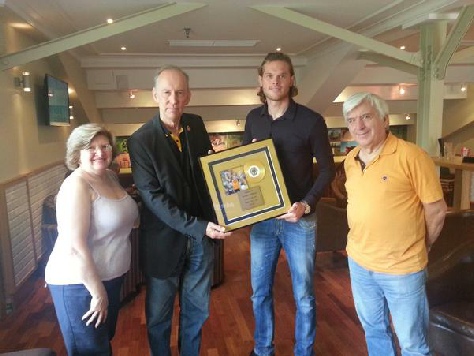 Meanwhile, wandering around Lithuania the England manager is accosted by a Fireman and a Carlisle Supporter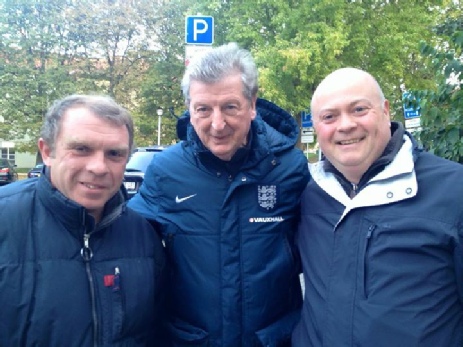 A warm welcome to Donnie Baugh
Congratulations to Matt & Elaine Baugh on the birth of Tommy's brother Donnie
Donnie is a fifth generation Wolf - his great great great uncle Dickie Baugh Snr played in Wolves first league match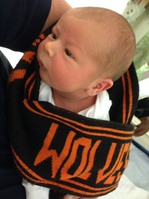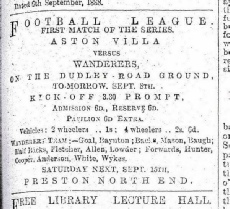 Dean Perkins is taking part in a charity White Collar Boxing Event in 3 x 2 minute bout and am raising moneyfor Marie Curie Cancer Care in memory of his mother. Please give generously at www.justgiving.com/dean-perkins3
The event is in Chiswick W4 on the 17th October 2015 @ 21.00. Tickets £30 again for charity.(If you are interested in attending email webmaster@londonwolves.com and we'll pass your request on to Dean) Dean is shown here with son James presenting Wayne Hennessey with his player of the season trophy.
Click for more details/map on the Haunting Walk Sat 27June - Geoff said "I can guarantee a good walk, a few decent ales and a visit to some of London's most haunted pubs where you are more likely to meet up with the ghost of a doctor's wife murdered by her husband and bricked up in the basement of the "William lV", the phantom waitress at "The Holly Bush Inn", or the ghost of Dick Turpin at "The Spaniards Inn"!"
The July 27th 2015 Ghostly Pub Tour pictures are here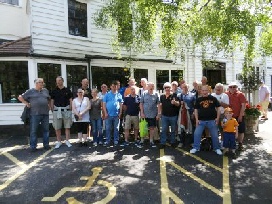 We're delighted to renew our sponsorship for Wolves Women FC. For 2015-16 we support the first team (here before the 5-3 opening win of the season), player/coach Anna Perks, as well as supporting the other age groups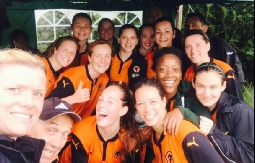 WWWFC fixtures here
April May 2015 Social events - pictures from Carol
Dinner at Bravaccios - last day of the season 2

nd

May 2015

Wolves Former Players' Association Dinner Molineux April 2015
Our condolences go to June and all of Jim Pym's family. Jim passed away on 31st May.
Our sympathies

and prayers too are with Jason Guy whose wife Lucy passed away 15th June. Jason and Lucy have engaged in inspirational fundraising for Breakthrough Breast Cancer since her diagnosis. Together they have raised over £50,000 and as part of that were our special guests last Christmas
Happy Birthday to Peter & Paul who celebrated at Banks's thanks to Simon Yates, Asst Head Brewer, before the 3-0 defeat of Fulham pix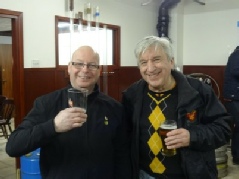 Sir Jack Hayward dies aged 91.
Funeral Tue Feb 3rd St Peter's Collegiate Church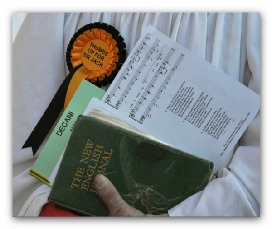 Sir Jack tributes Wolves Express&Star
Telegraph Independent 1993 D.Mail
Our best wishes go to Bob Richards for a speedy and full recovery in Orpington Croydon Hospital - and hoping to move to his own flat soon - here with Trevor ,Lynne and Dave at the 2012 Xmas lunch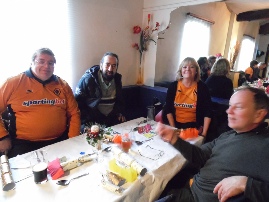 Roy's famous annual Xmas lunch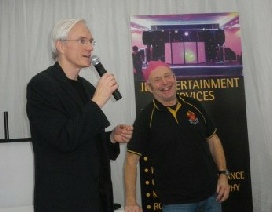 Click here for PRIZEWINNER pictures AND CLICK HERE for more pix
London Wolves Meet the Players Our thanks to Kenny and the Wolves players. Pictures here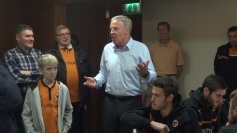 Mitch presents to Bakary Sako and Joe to Kevin McDonald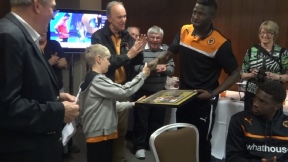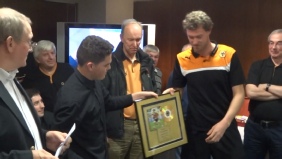 Pictures here
We had a look around to check what the bookies think about WWFC performance for the season. Turns out Middlesbrough is the favourite to win for 2015-16, with Hull and Brighton following close. Rotherham is the most likely to be relegated (Huddersfield and Bolton are at high risk too). Wolves are expected to finish the season in the top half, defending their position for 2016-17. No promotion ahead for the Wolves, at least according to the betting specialists out there! We won't give up hope until May, though. Come on you Wolves!
WWLSC support WW Women FC travel
MKDons HT: Mark F & Peter W presented our cheque to Wolves Women captain Anna Perks and star player Leanne Rimmer ably assisted by Wolves midfielder Lee Evans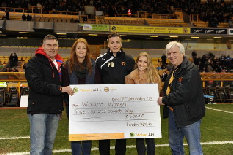 It's Dave's 50th anniversary of tr

avelling up to Molineux -the lads on the train presented him with a cake
pic Mark F
OldGoldGlory.co.uk issue 3 of Graham's fanzine is out for Millers match
Out of Darkness includes Grahams Hawkins & Turner, Bully Mutchy and regulars Mel Eves Martin Patching and Geoff Palmer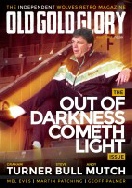 100-up Bakary Sako - special boots for the Beesotted Bees (podcast)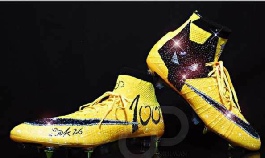 Val donates £1,000 to the Stroke Assocn for Frank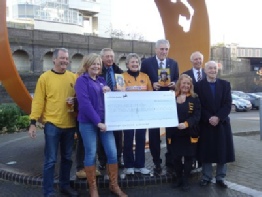 PLEASE READ IMPORTANT MESSAGE ABOUT EUSTON on the travel page here
A message from the Chairman:Members are reminded that while they are travelling, at the match, on the way, especially on the train, or even in the pub home or away they are seen to be representing both Wolves and London Wolves at all times, and are expected to behave appropriately. Complaints have been made about bad language on the train in front of other passengers. London Wolves support the Club's campaign to cut out bad language in the family areas and expect that to be respected and will take action under rule 5 if it is not.