London Wolves are the London Branch of World Wide Wolves article click here This video shown at Molineux for FAC3 v Liverpool - our thanks to Alan Perrins, World Wide Wolves Programme executive.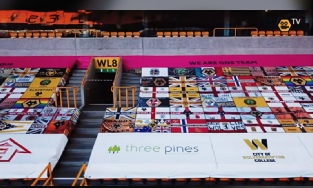 Jason has now raised over £200,000
London Wolves at the Allstars dinner 5/12/19. Pic JBG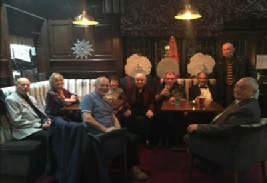 World Cup Walk Sat 30th June 2018 pictures


Important: Match ticket restrictions home and away 2018-20
PLAYER OF THE SEASON 2018-19 Raul Jiminez
Raúl-Firing Wolves into Europe-Again
2017-18 announced at AGM meeting
was is Wolves Captain Conor Coady. Conor was presented with his trophy at Molineux before the Huddersfield match on 25th November 2018. Chairman Earl's party included Joey Blackwell , Tony Griffin, and Dodges and Abbs wolves. (Pic Veronika Fabisiak).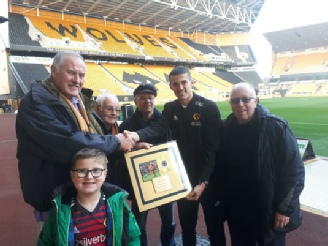 More Players of the season - here
2019-20 here 2018-19 (old) Home page here 2017-18 (old) Home page here
London Wolves flags details
We offer discounted travel and match tickets from London to home and away Wolves matches+social events. Membership info/form click here
Contact Peter Woodifield for travel tickets
email




n




The Premier League season kicks off 11August Fixtures announced 1

3 June
2019-20 Premier League line up:
AFC Bournemouth Arsenal Brighton & Hove Albion Aston Villa Burnley Chelski Crystal Palace Everton Leicester City Liverpool Manchester City Manchester United Newcastle United Norwich Sheffield United Southampton Tottenham Hotspur Watford West Ham United Wolves Subject of course to change by Sky, BT and Amazon Fixture grid here Matches 15 Wham
2019-20 Fixtures
London Wolves "Home matches"
Bournemouth Sat 23 Nov; Arsenal Sat 2 Nov;

Brighton Sat 7 Dec; Chelski Sun 17 May; Palace Sat 21 Sep; Norwich (for Abbswolf) Sat 21 Dec; Southampton Sat 18 Jan; Spurs Sat 29 Feb; Watford Sat 27 April

West Ham

Sat 14 March ;

Watford Sat 1 Jan 2020

t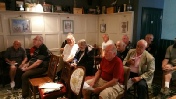 AGM - The 2019 AGM is Sat20 July 2019 info
Map for Horse & Groom, 128 Great Portland St, Fitzrovia, London W1W 6PS link to map
The 2018 AGM returned to the Paternoster near St Paul's Saturday July 21 3:00pm minutes at agms.html
The Membership
Contact abbswolf@londonwolves.com with questions for the WW Fans' Parliament minutes
Nuno agreed the 2017-18 Meet the Players and Dave Slape arranged this for Friday 23rd February before the Fulham match Our thanks to Matt Wild Jeff Shi and Laurie Dalyrymple Pix on Facebook and the members' only website here






Saturday 24th June 2017 London Wolves Walk - Greenwich - pictures
We raised a glass to "The Doog" on the 10th anniversary of his passing
PSFs:
Premier League Asia Trophy
July 17 - 6pm local time: (11am Molineux) Newcastle United (Nanjing Olympic Sports Center)
July 20 - 6pm or 8.30pm local time (11/1:30) : West Ham United or Manchester City (Hongkou Football Stadium, Shanghai)
Premier League Season kick off Saturday 10th August 2019 @ 15:00 at the King Power stadium, Leicester
Our friends from Wolves glory days at the 50th Anniversary dinner
And a Mike Bailey article on David Instone's site here
50th Anniversary pictures are here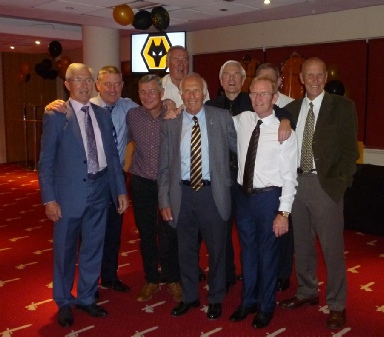 PLEASE READ IMPORTANT MESSAGE ABOUT EUSTON on the travel page here
A message from the Chairman:Members are reminded that while they are travelling, at the match, on the way, especially on the train, or even in the pub home or away they are seen to be representing both Wolves and London Wolves at all times, and are expected to behave appropriately. Complaints have been made about bad language on the train in front of other passengers. London Wolves support the Club's campaign to cut out bad language in the family areas and expect that to be respected and will take action under rule 5 if it is not.
Molineux Virtual Tour - all stands plus North Bank bar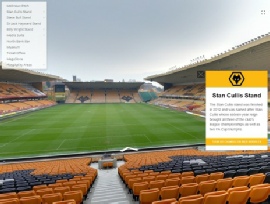 Signings (and rumours) 2019-20 Season


London Wolves are proud to sponsor Wolves Women's
#5 Captain Anna Price, #4 Emma Cross, #6 Mai Butler and also contribute to the Development squad
Congratulations to EMMA Wolves Women Player of the Season