FOR TRAVEL & TICKETS CONTACT PETER WOODIFIELD TRAVEL SECRETARY at 94 FARNHAM CLOSE RAINHAM KENT ME8 8NS
Telephone - 01634 363704 Mobile: 07885 141227
e-mail - peter.woodifield@outlook.com click to email
Arrangements for Europa League will be clarified- Check with Mark Griffiths or Wolves travel for the away leg. Fixtures drawn 19th June
Links (click): 1. map 2. parking 3. stadium Virtual Tour4. Hotels 5.Home match travel 6. Away Travel 7, Ground Information 8 Away grounds 9 International ground info10 Traffic info

2019-20 Season - Match ticket restrictions home and away 2019-20

Traffic Application here or on mobile site here for Car Parking in Wolverhampton click here Hotels - The Britannia here Travelodge here Premier Inn here Meeting place for home matches no longer BlueBrick - they are now an Away pub - try the Lych Gates next to St Peter's Church or the Grain Store (aka City Bar)
Recent travel changes will be noted here.
Train services from Euston will be provided by Avanti West Coast from Dec 12 2019
Fixture list see fixtures Contact Roy Eagles email Roy for social events before/after the match.
For Tube disruptions see Transport for London here or for National Rail here New Wolverhampton roadworks website here
See also information on away grounds and at Away grounds guide
If you are planning flights and looking for airport routing then checkout https://www.flightsfrom.com

Fixture changes: 2018-19 Sky/BT Premier League changes to be announced by 6 July for Aug/Sept; 7 Aug for Oct/Nov; 12 Oct for Dec/Jan; 12 Dec for Feb; 25 Jan for March; 22 Feb for April; 5 April for May and final week after week 37
Home matches
2018

Match ticket restrictions home and away 2018-19. Peter has been advised by the Wolves Ticket Office that it is highly unlikely that match to match tickets will make general sale this year. They have advised him that London Wolves members (who are not season ticket holders or already members at Wolves) wishing to get tickets should become My Wolves members. As well as priority they will also receive Wolves cash on all their club purchases (retail or ticketing). Membership is £25 to supporters aged 17 and over. Peter will still be able to apply for tickets on behalf of members, but you will need to make sure he knows your Wolves supporter number and numbers for anyone else you are applying for. Wolves membership details adult here dribblers/junior/wolfpack here
Arrangements for Europa League will be clarified- Check with Mark Griffiths or Wolves travel for the away leg. Fixtures drawn 19th June No travel arrangements available although Abbswolf knows the way to both
Overnight accommodation near Molineux
Harley Bill (Singleton) asked us to publicise his B&B which is 4 miles from Molineux, a short bus ride. He can be contacted by email at harleybill@outlook.com Well used already by London Wolves members, Bill has several room options including a double en-suite - from £20 / night including his special breakfast.
N.B. As we progress in the Europa League, some Saturday games will be moved to Sunday. follow Europa draws live here
Train services from Euston will be provided by Avanti West Coast from Dec 12 2019
2020
Premier League postponed until April 3 (means season runs to June 7, but UK Gov schedule is 12-14 weeks until peak so may be extended) EUROPA LEAGUE ALSO SUSPENDED
Thurs 12 March v Olympiacos A 8pm uk ko (10pm local) no travel
Sunday 15March v West Ham kick-off 2pm
The London Stadium is served by three railway stations, Stratford, Stratford International and Hackney Wick, all of which are around a 10-15 minute walk away. tratford Station is located next to the large Westfield Shopping Centre. It is the main station in the area, with overground connections from Liverpool Street and Clapham Junction. Jubilee, Central tube lines and Docklands Light Railway also serve this station. Stratford International Railway Station - Served by High Speed trains from London St Pancras (journey time 7 minutes). It is also located on the Docklands Light Railway. Hackney Wick Railway Station - Served by trains from Clapham Junction, Richmond and Stratford.
Thurs 19/3/20 v Olympiacos kick-off 5:55pm
Outward - Depart Euston 12:03 Arrive Birmingham New St 13:26
- Depart Birmingham New St 13:34 Arrive Wolverhampton 13:47
Return - Depart Wolverhampton 21:46 Arrive Euston 00:01
(Note: There will also be a 2 day trip for this game)***
Sun 22/3/20 v Bournemouth (Home) kick-off 2pm ( moved for Europa League)
Outward - Depart Euston 09:43 Arrive Wolverhampton 11:37 tbc
Return - Depart Wolverhampton 18:45 Arrive Euston 20:56
Thurs 19 March v Olympiacos H 8pm travel tbd
FA Cup Dates: 3rd Round 3rd/4th/5th/6th January 2020
4th Round 24th/25th/26th/27th January 2020; January 2020; 5th Round 4th March 2020 ; 6th Round 21st March 2020
Europa League *** m

essage from the Travel Secretary 29/2/20 re Europa League R176
'It is very unlikely that Peter will be able to obtain tickets for the away leg, other than for away season ticket holders, but

Peter needs to know by Wednesday 4th March if members who are season ticket holders want him to reserve their normal seat for the home leg

.

Any members who are not season ticket holders also need to let him know by the above date if they want him to purchase tickets on their behalf for the home leg, although he cannot guarantee that he will be able to get them tickets for this match.'
NB general tickets for the final are now on sale until March 12 at uefa.com/tickets
Away matches - There will be no official club trips to the Europa League away matches, You may wish to check with member Mark Griffiths for travel arrangements and with Wolves travel.Mark's website is www.ontheballtravel.com Olympiacos for round of 16 on 12th/19th March. The final rounds of 8, 4 and 2 (aka quarter and semi finals and the final) are all drawn on Friday March 20th. Quarter finals 9/16 April 2020; Semi-finals 30 April 2020 & 7 May 2020 and the Final is 27 May 2020 at Stadion Energa Gdańsk, Gdańsk. You can watch the draws live on BT Sport or on the UEFA website https://www.uefa.com/uefaeuropaleague/draws/ UEFA are now taking bookings for the final at UEFA.COM/tickets including flexi tickets
Away matches More details of Premier League Grounds here
See football grounds guide for more details on PL stadia
Note increased security at some grounds. e.g. ManUtd only allow you to take in handbag sized (or manbag!) (max 20cm x 15cm x 5cm (8" x 6" x 2")) bags & ManCity (16.5" x 12" x 6") OR Wembley A4. Check the away club website before travelling, although it may take some time to find the information
Premier League
(FA Cup fixtures are here http://www.thefa.com/competitions/thefacup/fixtures)
- see also the football grounds guide
Meeting place: Euston Station concourse outside main ticket office, at least 20 minutes before train departure. Euston departure time from Euston for Saturday home games will be at 09:43
Please read the following
A message from the Chairman
Members are reminded that while they are traveling, at the match, on the way, especially on the train, or even in the pub home or away they are seen to be representing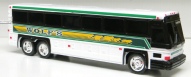 both Wolves and London Wolves at all times, and are expected to behave appropriately. London Wolves support the Club's campaign to cut out bad language in the family areas and expect that to be respected and will take action under rule 5 if it is not.
EUSTON Meeting information:
Meeting information:
'Since 2013 Virgin Group Travel have issued just one train ticket for each journey we make. Recently there have been problems at the Euston ticket barrier, with members not being allowed onto the platform until Peter has arrived with the ticket. Therefore, to hopefully avoid problems in the future, once the departure platform is announced Peter will go straight to the ticket barrier and wait there until a couple of minutes before the train departure. Members are, however, reminded that they should still aim to arrive at Euston at least 20 minutes before the train departs.' On 8th December 2019 Avanti West Coast take over promising train refurbishment anf more services/
Normal fares : Members £20 (Guests/non-members £25) Juniors £10 (junior guests £12.50) However Virgin are reducing the available reduced price tickets and not offering the full group deals hence prices may change, so book early.
Note: Wolverhampton pre-match meeting place is now (2016)
the Lych Gate Tavern (off Queen Square by St Peter's Church Lych Gate/Barclays Bank) if specifically advised.
Note that the BlueBrick is now an away pub but events may still be held there
20% discount on food while travelling at Sloe, Millies Cookies, Camden Food, Bonapartes Cafe Bar Burger King and Delice de France - for details see BITE CARD here
HOME MATCHES are at Molineux Stadium, Waterloo Road Wolverhampton WV1 4QR. Molineux info or ground info
See also information on away grounds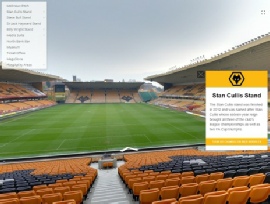 A new (2015) Football League Travel Application for lift sharing
Reserve matches are generally at the Telford AFC or very occasionally Molineux .
Home season tickets also give entry to home reserve matches.
Links (click):> 1. map 2. parking 3. stadium 4. Hotels 5.Home match travel 6. Away Match Travel 7, Ground Information 8 Away grounds 9 International ground website 9 Traffic info
Peter W asks you to note that, because of a new train timetable, as from January the departure time from Euston for Saturday home games will be at 09:43
Please contact Travel Secretary for confirmation of travel arrangements
Any member wishing to book a train ticket for travel to home or away matches from Euston, must now contact the Travel Secretary AT LEAST 9 DAYS prior to a match. Bookings for travel with other train operators must be made 3-4 weeks before the match. This is because early booking is essential in order to obtain the cheapest tickets. Fares will be collected on the outward journey. Payments in advance are accepted. Cheques/P.O's payable to WWLSC.
Any member booking a train ticket, who subsequently cannot travel, must contact the Travel Secretary at least 9 days before a match to cancel, or they will have to pay for the ticket. This also applies to members who book a ticket and fail to show up on the day, as the train companies will not offer any refunds on unsold tickets, except in exceptional circumstances.
Members requiring match tickets for HOME matches, please contact Travel Secretary AT LEAST 16 DAYS prior to a match. Please enclose s.a.e. with postal applications.
Please note that for all-ticket away matches where Wolves allocation is limited, ONLY AWAY SEASON TICKET HOLDERS CAN BE GUARANTEED A TICKET. Tickets for every away match go on sale 21 days before the match to away season ticket holders and also to home season ticket holders, unless Wolves have a limited allocation. Home season ticket holders can apply for away tickets by ringing the Wolves Ticketline on 0871 222 1877 between 9am – 5pm, and giving their Supporter Number.
There are 7 Club season tickets available to members on a match to match basis. Full match day price will be charged. Members must travel on the official Club trip for the particular game for which the ticket is required.
Members travelling or using WWLSC tickets are expected to be of good behaviour whilst travelling to or from the matches. Breaches of this will be considered by the Committee as grounds for expulsion from WWLSC under the WWLSC rules.
Please note also that dates and times of matches are likely to be changed because of live TV coverage.

TRAVEL SECRETARY - PETER WOODIFIELD
94 FARNHAM CLOSE
RAINHAM KENT
ME8 8NS
Telephone - 01634 363704
Mobile: 07885 141227
e-mail - peter.woodifield@outlook.com click to email
There are many car parks in Wolverhampton, although few offer a "quick get away". The streets nearest to Molineux prohibit parking except with a resident's permit, and the traffic wardens have a field day most match days. Nearest street parking is therefore about 10 minutes away, to the West of West Park. (Beware of the residents' parking scheme - see below - wardens are very active on match days)
BEWARE: Wolverhampton Council has also extended (from April 2014) parking restrictions to Bank Holidays and Sundays so meters are no longer free on those days and single yellow lines are active.
www.multimap.com/map/browse.cgi?lat=52.5887&lon=-2.1343&scale=10000&icon=x updated here http://www.wolverhampton.gov.uk/parking-permits
Explanation of this scheme is in this page from Moli
http://www.wolves.premiumtv.co.uk/page/NewsDetail/0,,10307~413914,00.html
Here is a map of Central Wolverhampton with car parks. Molineux stadium is to the North West - off junction H on the ring road.
http://www.wolverhampton.gov.uk/NR/rdonlyres/DD9D6821-EAC6-403C-866F-C9C4AC69E535/0/car_parks.pdf updated here
2015 Map http://www.wolverhampton.gov.uk/article/1721/City-centre-car-parks
Overnight accommodation
Harley Bill (Singleton) asked us to publicise his B&B which is 4 miles from Molineux, a short bus ride. He can be contacted by email at harleybill@outlook.com Well used already by London Wolves members, Bill has several room options including a double en-suite - from £20 / night including his special breakfast.
Hotels - additional service for fans: A message from supporters' accommodations- We have been in the hotel booking industry for several years and have been very successful. We built www.supportersaccommodation.com 2 years ago and through feedback found out that not all hotels welcomed football fans for one reason or another so we decided to get in contact with the hotels directly and find out if they do or not and the ones on our site do.
The nearest hotel to the ground was the basic but well priced Travelodge - just 200 yards from the ground. Waterloo Road · Wolverhampton but has now closed. Other Travelodges are a little further away https://www.travelodge.co.uk/uk/hotels-in-wolverhampton
The London Wolves former meeting place - the Bluebrick (see above) is next to the Wolverhampton Premier Inn details click here - booking early can often give good deals
The Britannia (all information deleted following the chain's discraceful dismissal and eviction of staff during the covid19 epidemic https://www.telegraph.co.uk/business/2020/03/21/britannia-will-rue-way-sacked-hotel-staff/?WT.mc_id
New Hotel Search & Booking Facility - Match Hotels - Match Hotels cover most of the English league clubs towns and cities.
For the Wolverhampton page click http://www.matchhotels.com/England/Wolverhampton-Wanderers-hotels-1739.html where you can also change the club
London Hotels
You may find this site helpful if looking for hotels in London http://www.popularhotels.com as it groups hotels by category
London night Tube service (Fridays & Satudays)
Map here https://tfl.gov.uk/cdn/static/cms/images/nighttube-map.jpg
TRAFFIC INFORMATION FROM FRIXO.COM - there is a mobile version -NEW TRAFFIC SERVICE FROM FRIXO.COM - Get your passenger to log onto www.frixo.com URL: http://www.frixo.com Included on the website are planned roadworks

Widget by Frixo OLD SERVICE FROM LONDON WOLVES in conjunction with AWAYDAYS MAPS. Click on the dropdown for some away grounds. Unfortunately this is out-of date but if you put the postcode, ground name or town into the field on the right that should work. You'll see the train station, pubs etc. The maps are still up to date although the service for booking appears to have been closed.