Wolves Women 2019-20

P W D L GD + Pts pos

WPLN Results Fixtures
Match Reports on main site here fixtures/index U23s U18s
Will Wolves Avoid Second-Season Syndrome?

For Wolves Men, U23 & U21 fixtures and results plus all league teams around the world including live scores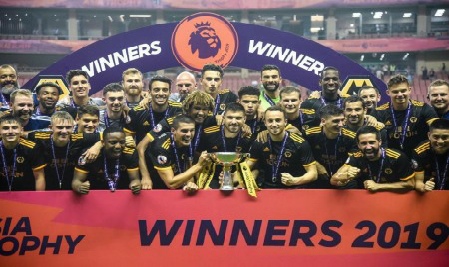 Fixture changes:
Match #1 Foxes moved to Sun 11 Aug 2pm ko.
Man Utd to Monday 19Aug 8pm Sky
Everton to Sunday 1Sep 2pm Sky
Burnley will move if WW beat Crusaders; draw for next round Monday 22/7
Sky/BT/Amazon for PL
Match months with approximate date of announcement (PL)
Aug/Sep 5 July 2019; Oct 6 August; Nov 16 Sept; Dec/Jan 11 Oct; Feb 14 Dec;
Mar 24 Jan 2020; Apr 21 Feb; May 3 April; MW38 Post-MW 37
2019-20 Fixtures
London Wolves "Home matches"
AFC Bournemouth Sat 23 November

Arsenal Sat 2 November

Brighton & Hove Albion Sat 7 December

Chelski Sun 17 May

Crystal Palace Sat 21 Sep

Norwich (for Abbswolf) Sat 21 Dec

Southampton Sat 18 January

Tottenham Hotspur Sat 29 Feb

Watford Sat 27 April W1-2

West Ham United

Sat 14 March

Watford Sat 1 Jan 2020
Subject of course to change by Sky/BT (see above)


Wolverhampton Wanderers


Thursday 1st August second round second leg away (N Ireland) Subject to change.
ELQ2-1 Thu 25/7/19 v Crusaders H W2-0
ELQ2-2 Thu 1/8/19 v Crusaders A W1-4 (W6-1 aggregate)
N.B. If we progress in the Europa League, some Saturday games will be moved to Sunday, e.g. Burnley
The draw for the next round is on 30 Aug at 12:30 UK follow it live here
ELQ3-1 Thurs Europa 8/8/19 A Pyunik 5pm Uk 8pm Armenia W0-4 Cutrone wins pen
The Low-Down on Italian Whizz Kid Patrick Cutrone
01 Sunday 11 August 2019 A Leicester 14:00 King Power Stadium D0-0 (Var)
ELQ3-2 Thurs Europa 15/8/19 H Pyunik W4-0 (8-0 Agg)
02 Monday 19 August 2019 H Man Utd 20:00 Molineux
Thurs 22 August Europa Play off 1st leg v Torino A
03 Sunday 25 August 2019 H Burnley 16:30 Molineux
Thurs 29 August Europa Play off 2nd leg v Torino H
04 Sunday 1st September 2019 A Everton 14:00 Goodison Park
05 Saturday 14 September 2019 H Chelsea 15:00 Molineux
06 Saturday 21 September 2019 A Crystal Palace 15:00 Selhurst Park
07 Saturday 28 September 2019 H Watford 15:00 Molineux
08 Saturday 5 October 2019 A Man City 15:00 Etihad
09 Saturday 19 October 2019 H Southampton 15:00 Molineux
10 Sunday 27 October 2019 A Newcastle 14:00 St. James' Park Sky tv
11 Saturday 2 November 2019 A Arsenal 15:00 Emirates
12 Saturday 9 November 2019 H Aston Villa 15:00 Molineux
13 Saturday 23 November 2019 A Bournemouth 15:00 Vitality
14 Saturday 30 November 2019 H Sheffield Utd 15:00 Molineux
15 Tuesday 3 December 2019 H West Ham 19:45 Molineux (Amazon)
16 Saturday 7 December 2019 A Brighton15:00 Amex
17 Saturday 14 December 2019 H Spurs 15:00 Molineux
18 Saturday 21 December 2019 A Norwich 15:00 Carrow Road
19 Thursday 26 December 2019 H Man City 15:00 Molineux (Amazon)
20 Saturday 28 December 2019 A Liverpool 15:00 Anfield
21 Wednesday 1 January 2020 A Watford 15:00 Vicarage Road
FAC3 Saturday 4 January 2020 FA Cup 3rd round
22 Saturday 11 January 2020 H Newcastle 15:00 Molineux
23 Saturday 18 January 2020 A Southampton 15:00 St. Mary's
24 Tuesday 21 January 2020 H Liverpool 19:45 Molineux
25 Saturday 1 February 2020 A Man Utd 15:00 Old Trafford
26 Saturday 8 February 2020 H Leicester 15:00 Molineux
27 Saturday 22 February 2020 H Norwich 15:00 Molineux
28 Saturday 29 February 2020 A Spurs 15:00 Tottenham Hotspur Stadium
29 Saturday 7 March 2020 H Brighton 15:00 Molineux
30 Saturday 14 March 2020 A West Ham London Stadium
31 Saturday 21 March 2020 H Bournemouth 15:00 Molineux
32 Saturday 4 April 2020 A Aston Villa 15:00 Villa Park
33 Saturday 11 April 2020 H Arsenal 15:00 Molineux
34 Saturday 18 April 2020 A Sheffield Utd 15:00 Bramall Lane
35 Saturday 25 April 2020 H Everton 15:00 Molineux
36 Saturday 2 May 2020 A Burnley 15:00 Turf Moor
37 Saturday 9 May 2020 H Crystal Palace 15:00 Molineux
38 Sunday 17 May 2020 A Chelsea 15:00 Stamford Bridge
Emirates FA Cup Final Final Saturday 23 May 2020
matches Approx date of announcement (PL)
Aug/Sep 5 July 2019; Oct 6 August 2019; Nov 16 September 2019 Dec/Jan 11 October 2019
Feb 14 December 2019; Mar 24 January 2020; Apr 21 February 2020; May 3 April 2020;
MW38 Post-MW 37
PSFs Premier League Asia Trophy
July 17 - 6pm local time: (11am) Newcastle United W0-4
July 20 - 8.30pm local time (11/1:30) : v Manchester City W 3-2 pens
*All fixtures are subject to change






Flags 2018









Wolves Allstars fixtures 2019-20




Premier League Table powered by FCTABLES.com


















































































Wolves Women Fixtures First Team 2019-20


Women'sLeague Midlands Division 1 Home matches at AFC Wulfrunians




Wolves women PSFs
7 July A Loughborough Foxes
14 July A Cheltenham
21 July A Barnsley Ladies
28 July A Oxford Utd Ladies
04 Aug H Stoke City Ladies
11 Aug
Women's Division 1 Midlands
Sunday 18th Aug HOME Lincoln City Women 14:00
Sunday 1st Sep AWAY Burton Albion Ladies 14:00
Weds 4th Sep HOME The New Saints LFC 19:45
Sunday 8th Sep HOME Leicester United WFC 14:00
Sunday 15th Sep AWAY Leafield Athletic LFC 14:00
Sunday 29th Sep HOME Doncaster Rovers Belles 14:00
Weds 9th Oct HOME Sporting Khalsa Women 19:45
Sunday 20th Oct AWAY Solihull Moors FC Ladies 14:00
Sunday 27th Oct AWAY Bedworth United FC Ladies 14:00
Sunday 10th Nov HOME Long Eaton United Ladies 14:00
Sunday 8th Dec AWAY Birmingham & West Midlands Ladies 14:00
Sunday 12th Jan AWAY Lincoln City Women 14:00
Sunday 2nd Feb HOME Burton Albion Ladies 14:00
Sunday 9th Feb AWAY Leicester United WFC 14:00
Weds 19th Feb AWAY The New Saints LFC 19:45
Sunday 23rd Feb HOME Leafield Athletic LFC 14:00
Sunday 8th Mar AWAY Doncaster Rovers Belles 14:00
Thurs 19th Mar AWAY Sporting Khalsa Women 14:00
Sunday 22nd Mar HOME Solihull Moors FC Ladies 14:00
Sunday 29th Mar HOME Bedworth United FC Ladies 14:00
Sunday 26th Apr AWAY Long Eaton United Ladies 14:00
Sunday 10th May HOME Birmingham & West Midlands Ladies 14:00


U23s Fixtures Premier League 2 to be updated for 2019-20
Home matches played at Telford - The New Bucks Head except derbies at Molineux
#PL2 games to be played at Molineux
●
U23s Fixtures Premier League 2
Home matches played at Telford - The New Bucks Head except derbies at Molineux
PSFs -Pre-season schedule
PSF Sunday 21st Jul A Villarreal B 18:00
PSF Wednesday 24th Jul A Hereford FC 19:45
PSF Wednesday 24th Jul A Kidderminster Harriers 19:45
PSF Monday 29th Jul A Swansea City 16:00
PSF Wednesday 31st Jul A Celtic 00:00
PL2 Div 1
AUGUST
Home matches are normally played at the Sir Jack Hayward Training Ground (SJH)
Read more at http://www.wolves.co.uk/fixtures-results/academy_fixtures/index.aspx#4CyrMssLbbfpIYdB.99
AUGUST