Player (click on picture for more)
Derek Dougan

WW 1967-75
258 Appearances
95 goals
1938-2007 "the Doog" here
A northern Ireland international who went to the World Cup in 1958. Much travelled until he found his spiritual home at Molineux and settled in Wolverhampton.
London Wolves Life Vice President until his demise in 2007
click on the picture for more, including video montages
John Richards

WW 1969-83
487 Appearances
194 goals
Wolves top scorer by a long way until overtaken by Bully - a forward who thrived off Doog's service and scored the winning goal in the 1974 League Cup FInal.
click on the picture for more, including video montages
Steve Bull ("Bully")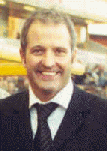 WW 1986-1999
561 appearances
306 goals
Wolves' all time goal scoring record holder with 306 goals, uniquely earning an England call-up while still technically a thrid division player.
Now a major charity fund raiser, events organiser, Wolves Vice-President and has the East stand named after him
click on the picture for more, including video montages
Mike Bailey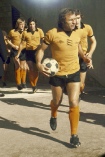 WW 1966- 1977
436 Appearances
25 goals
Mike took over the captaincy of Wolves from Ron Flowers. Both in fact played in the first match I saw at the Molineux - a 1-1 draw against the Saints just after Mike arrived on March 4th and Mike's home league debut. Ernie Hunt was our goalscorer. Mike went on to captain us in the League Cup final victory in 1974. In the promotion year Mike was voted Midlands Footballer of the year. He joined us from Charlton for a £40,000 fee. Mike played 436 times for us, scoring 25 goals, but preventing hundreds! The cartoon from the Pink showed how the Mike Bailey "Power Unit" was regarded for those 436 appearances.
Mike's testimonial was in 1976 against the Baggies just before he left in January 1977. He went to the USA but returned and managed and coached non-league sides as well as Charlton, Brighton & Hove Albion and Portsmouth
Mike is (2015) the Chairman of the Wolves Former Players Association
David Wagstaffe

WW 1967-75
258 Appearances
95 goals
1943-2013
"Waggy" was one of Wolves' fans all time favourites. A very quick and exciting left winger ("outside left") who could put pinpoint crosses into the box and help the forwards get their goals during the 60s and 70s. Dave played 404 matches for the Wolves and scored 32 goals, including some memorable cut ins from the left wing.
Waggy moved to Blackburn in 1976 and retired while at Blackpool three years later.
He returned to Moli to run Waggy's Bar.
click on the picture for more,
Frank Munro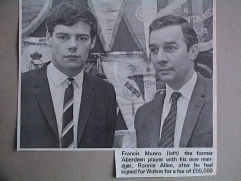 WW 1968-77
371 Appearances
19 Goals
1947-2011
Frank had been a regular participant in London Wolves events, unwittingly helping a member into the Millennium Stadium for the play off final! A tough tackling defender in his day, he has fought ill health since a storke in 1993.
Frank joined Wolves in our first season back in the top flight in 1968 from Aberdeen after scoring against us in a pre-season tour and went on to play 376 times for the Wolves scoring 19 goals, before moving to Celtic in 1977 after a brief loan spell. Frank was a stalwart of the side which won promotion back to the first division in 1977 and won 9 Scottish International caps while at Molineux. Frank is pictured with Wolves manager Ronnie Allen.
Ron Flowers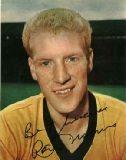 WW 1952-67
512 Appearances
37 Goals
England and Wolves captain who took over from Billy Wright
Ron was a member of the 1966 England world cup winning squad but missed out to Jackie Charlton to play in the final - he was eventually awarded a winner's medal 50 years later when FIFA conceded to a world wide campaign
Terry Wharton

WW 1957-67
242 Appearances
79 goals
Terry Wharton was the right winger with Waggy, and a product of Wolves' youth policy. Joining at 15, he made his debut in November 1959 - scoring in a 2-0 win over Ipswich and stayed in the side for 6 years, making 242 appearances and scoring 79 goals including penalties. The two wingers were key to Wolves promotion to the first division in 1966-7. In November 1967 Terry transferred to Bolton, then the Palace in 1971 before moving to South Africa. Terry continued in football non-league management after retiring in 1974
Fred Davies

WW 1957-1968
173 appearances
Goalkeeper
Fred was the Wolves goalkeeper during the 66-67 promotion season. He joined in 1957 aged 18 but had to wait 5 years before making his debut - an FA Cup Tie against the Baggies. The next week he made his league debut against Spurs in front of 46,000. Fred played over 170 times for the Wolves before joining Cardiff in 1968. His next club was Bournemouth where he starred in the Cherries promotion season in 1970. Fred had a distinguished coaching career after retiring leading Shrewsbury to promotion in 1994 (having signed Wayne Clarke).
Peter "Knocker" Knowles

WW 1961-9
191 appearances
64 goals
- the best player in the country, not even second to George Best.
However, he gave it all up to concentrate on his religion as a Jehovah's Witness
click on the picture for more,
Norm Deeley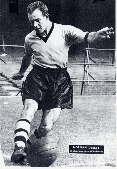 WW 1950-62
237 appearances
73goals
1934-2007
pped twice by England but most Wolves fans will always remember him for the two goals he scored in the 1960 Cup Final and for the pressure he put on the Blackburn defence for the first, an own goal. He recounts his experiences in the Match of My Life (Wolves) (info here). It was in a tackle with Norm that Dave Whelan (now owner of Wigan Athletic) broke his leg. At the time Whelan said it was a no fault tackle but changed his story a couple of years ago, provoking a protest from Wolves fans.
Normwas found dead at his home in Wednesbury and will be sadly missed by all at Wolves. This was previously his mother's house - a somewhat different lifestyle than current players!
Norman made 237 appearances for Wolves and scored 75 goals over a 12 year stay at Molineux. He was also part of the Wolves team that won back to back titles in 1957/58 and 1958/59. Deeley, who signed professionally at Wolves in 1950, was converted to the wing from a striker by former manager Stan Cullis and went on to win successive league titles in 1958 and 1959 and an FA Cup-winner's medal the following year when Wolves beat Blackburn 3-0
You can see his goals in that cup final by clicking here
Willie Carr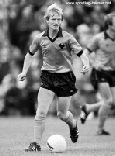 WW 1975-82
appearances 289
goals 26
Well, Willie and Ernie Hunt will live for ever for "that free kick" - when playing for Coventry in November 1970 when Willie stood over the ball and flicked it up for Ernie to volley into the net. (The FA later ruled it was not legal since the ball didn't travel though it's own circumference (except upwards!). See the kick here
Willie joined the Wolves in March 1975, albeit after a big debate over a failed medical, for what would have been a record fee but which was cut from "245,000 to £80,000. Willie was always a crowd favourite and a friend of London Wolves. He played 289 times over the next seven years, scoring 26 goals. He won six Scottish caps, as well as a League Cup medal in 1980. Willie moved on in 1982 to Millwall and then non-league before retiring in 1988
Hugh McIlmoyle
Hughie played 105 times for Wolves scoring 45 goals before leaving for Ashton Gate just as the Doog joined Wolves but had contributed 13 goals to the promotion campaign before his departure. Hugh is a special Carlisle hero having played for them three times. His first goal for us came against Blackburn in January 1965 after joining for £30,000 in October 1964.
John Holsgrove

WW 1965-69
202 appearances
7 goals
joined the Wolves in 1965 from Crystal Palace for £18,000 (on Ronnie Allen's recommendation - Ronnie was to come to Wolves the following year himself). He quickly established himself but suffered injury for the start of the 66-67 season. By January he was back and played 97 consecutive matches a total of 202 altogether and scored 7 goals before transferring to Sheffield Wednesday in 1969 after John McAlle's arrival.
Here's a match report from the Pompey site about one of his goals
1965: WOLVES 8 POMPEY 2
POMPEY conceded eight goals for the first time since pre-war days before 17,199 in a second-division match at Molineux. Bobby Woodruff headed past John Milkins after two minutes and Dave Wagstaffe made it 2-0 five minutes later. A lob from Hugh McIlmoyle sailed over everybody into the net and Wolves went 4-0 ahead on 21 minutes when Ron Flowers scored with a terrific drive.
Woodruff's harmless shot spun out of Milkins' hands and over the line and John Holsgrove gave Wolves a 6-0 half-time lead, leaving the Pompey players a touch dejected going into the dressing room. It got little better after the break, either, as Holsgrove met Wharton's corner for goal number seven before Pompey pulled one back through a Les Wilson own goal. Ray Hiron grabbed Pompey's second on 75 minutes but McIlmoyle completed Wolves' goal-fest with a header in the last minute.
Graham Hawkins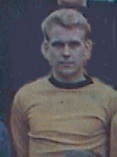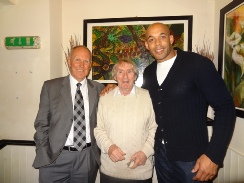 Graham was another local lad who joined as an apprentice in 1961 and turned pro in 1963. He made his full debut against the Baggies in October 1964. A central defender, with strong competition, Graham couldn't command a first team regular place and transferred to Preston North End in 1967 and then went to Blackburn for 4 years where he was a major contributor to their promotion, before becoming Port Vale's player manager. He had a spell as assistant manager at Shrewsbury before being brought back by the Doog (then CEO) to the Molineux as Wolves manager on 1st August 1982, and took Wolves backinto the 1st Division (for the last time until the 2003 Millennium playoff final... 19 years 322 days later). His star strikers were Andy Gray, Mel Eves and Wayne Clarke. Unfortunately we then had our worst season ever in the top flight losing 25 matches, winning only 6, and were relegated. He moved to the middle east and was about to manage Kuwait when Saddam Hussein invaded. Graham made 29+6 appearances for the Wolves and then,as manager, his record was played 88 won 26,drew 27, but lost 35 with 100 goals scored in those 88 matches. An article and interview with Graham appears here http://archive.thisislancashire.co.uk/1999/2/16/781403.html
Graham was our guest of honour for the 2012 Xmas lunch and is pictuerd here with Waggy and Matt Murray
Nouha Dicko
2013-

Nouha with Hunty
2013 Wolves offered us a place at the lunch and we were delighted to join soon-to-be-signed Nouha Dicko here
Nouha was rewarded with a 3 year contract and the number 9 for season 2015-16
Other individual pages
Managers Dave Jones Bill McGarry
George Best Iggy Cartwright Kenny Hibbitt