London Wolves are the London Branch of World Wide Wolves article click here This video shown at Molineux for FAC3 v Liverpool - our thanks to Alan Perrins, World Wide Wolves Programme executive.
Next committee meeting to be in the WWW Lounge 16/3/18
10th Annual London Wolves

Christmas Lunch raising £180 for BreastCancer Care and Legacy4Lucy.co.uk Pictures index
+ 3 points from Cherries W2-0
FA Cup 5th round draw on The One Show
Mark & Melanie Good luck Danny - Captain moves on after 18 years.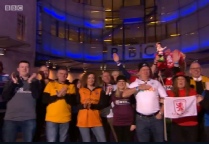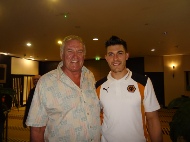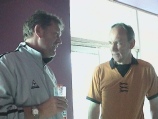 Our best

wishes to former Wolves & England Manager, Glenn Hoddle for a speedy recovery. Glenn was taken ill at the BT studios 27/10/18 but is now home recuperating. Here he is being interviewed by Secretary Slape for the Wolves job (MTP05). Mol pic Peter Harrington - update 17Feb Interviewed on Savage BT show
AGM Saturday 21st July at the Paternoster near St Pauls meeting

Latest Committee Meeting before the Man Utd FA Cup match in the World Wide Wolves lounge at Molineux
World Cup Walk Sat 30th June pictures
Stuart would like to thank all members for their good wishes .
Sky/BT Fixture changes:

Everton moves to 5:30 11Aug (BT), Man City to 12:30 25 Aug, + Carabao Cup away to Owls 28 Aug; 3

rd

Rnd Home to Leicester Tue 25 Sep 19:45; Burnley to Sunday 16Sep 13:30; Spurs H

Sun 1:30 4Nov

now 19:45 Sat 3Nov; and Huddersfld H Sun 4pm 25Nov;Cardiff A Fri 30 Nov 8pm;Newcastle A Sun 9 Dec 4pm; Liverpool H Fri 21 Dec 8pm; Fulham A Wed 26 Dec 12:30; Man City A Mon 14 8pm

or

Sun13 Jan 12pm; Leicester H Sat 19 Jan 12.30
Newcastle H now Mon 11 Feb 19:45;
Chelski A now Sun 10 March 2:05pm, Man Utd now Tue 2 Apr 19:45 (all Sky)
Also (not on TV) Chelski H Weds 5 Dec 19:45; Arsenal A Sun 11 Nov 16:30; (Spurs 29 Dec now at Wembley) Crystal P H Wed 2 Jan. FA Cup 3

rd

Round Monday 7

th

January live on BBC 19:45 Liverpoo
l. FAC4 A Shrews Sat 26 Jan 15:00; FAC4R H Tue Feb 5; FAC5 A Sun 17 Feb 13:00 Ashton Gate
live on BT Sport
Qtr final Sat 16 Mar 19:55 H v Man Utd live on BBC1; Semi Final Wembley v Watford Sun 7 Apr 4pm ko on BT Sport 4K Arsenal H (16 Mar) now W 24 April 19:45



Steve's August 2018 Newsletter now available on-line;
Important: Match ticket restrictions home and away 2018-19
Remembering Terry Peachey d 27-7-2018 and Gerry Blake Aug 2018
PLAYER OF THE SEASON 2017-18 announced at AGM meeting
is Wolves Captain Conor Coady. Conor was presented with his trophy at Molineux before the Huddersfield match on 25th November 2018. Chairman Earl's party included Joey Blackwell , Tony Griffin, and Dodges and Abbs wolves. (Pic Veronika Fabisiak).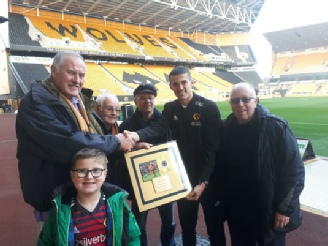 More Players of the season - here
2017-18 (old) Home page here
London Wolves flags details
We offer discounted travel and match tickets from London to home and away Wolves matches+social events. Membership info/form click here
Contact Peter Woodifield for travel tickets
email
Steve's newsletter is available here Jan2018 here
London Wolves are proud to sponsor Wolves Women's
#5 Captain Anna Price, #4 Emma Cross, #6 Mai Butler and also contribute to the Development squad
Congratulations to EMMA Wolves Women Player of the Season

Kenny Hibbitt Book signing


Saturday 29th Sept in The Grain Store King St Wolverhampton.
Pic Mark, Joey Feehan




Congratulations to London Wolves' President John Richards - elected Vice Chairman of Wolves FPA
WWLSC at U23s (Mark, Peter W and Dave) - Fulham's Motspur_Park 14Sep18 (pic Mark Feehan)



Wolves were sad to learn of the death of Ernie Hunt 21June2018 aged 75 and who appeared in our first ever offical match at Molineux. He joined us for the 40

th

dinner at The Valley, pictured here with Hughie McIlmoyle..

Kenny Hibbitt Book signing


Saturday 29th Sept in The Grain Store King St Wolverhampton.
Pic Mark, Joey Feehan


New - October 2018- They Wore The Shirt sequel "The Pack is Back"
Sponsor/Subscriber/ Party registration details http://theyworetheshirt.co.uk/
6/6/18 Benik Afobe, Rui Patricio, Joao Cancelo and Goncalo Guedes,
23/7/18 Joao Moutinho signs
The Premier League season kicks off 11August Fixtures announced 14 June
2018-19 Premier League line up:

AFC Bournemouth Arsenal Brighton & Hove Albion Burnley Cardiff City Chelski Crystal Palace Everton Fulham Huddersfield Leicester City Liverpool Manchester City Manchester United Newcastle United Southampton Tottenham Hotspur Watford West Ham Wolves Full table PL Fixtures + Grounds
(London Wolves "local" matches in green) Subject of course to change by Sky Fixture grid here
2018-19 Fixtures
London Wolves "Home matches" -dates
AFC Bournemouth Sat 23 Feb Arsenal Sat 10 Nov Brighton &HA Sat 27 Oct

Chelski Sat 9 March Crystal Palace Sat 6 Oct

Fulham Wed 26 December

Saints3 April Spurs Sat 29 Dec Watford Sat 27 April West Ham

Sat 1 Sept
AGM - The 2018 AGM returned to the Paternoster near St Paul's Saturday July 21 3:00pm minutes at www.londonwolves.com/agms.html
The view from Stuart's room Plus The Membership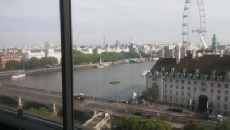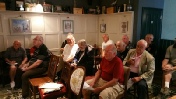 London Wolves World Cup Walk 2018 Power to the People in Tooting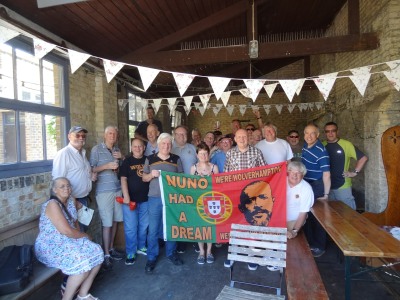 London Wolves flags at Molineux 28th April 2018 details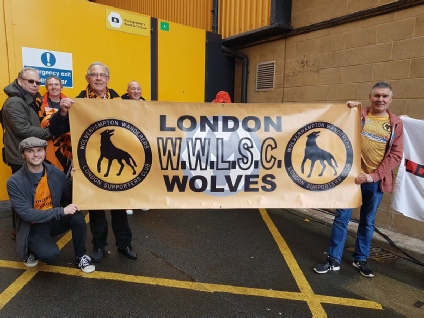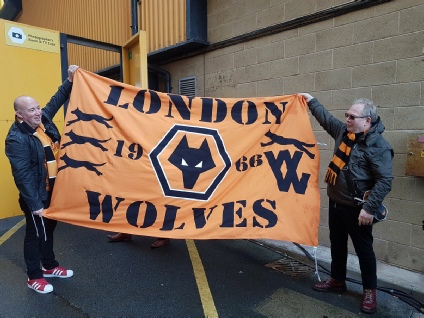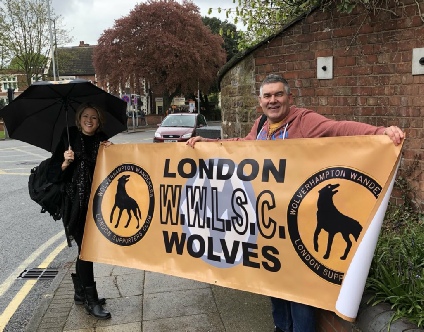 London Wolves on Tour (pic Lynne)
Home match for Abbswolf and Jenny
(masochists in Sunderland) celebrating a 1-0 win over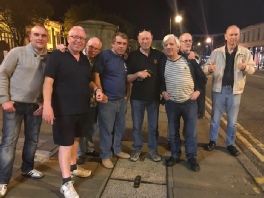 Mick McCarthy's Ipswich (pic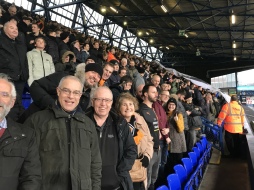 MarkF)






























Committee Meeting - Thursday 12th April 2018 7pm at the Rose of Denmark
226 Woolwich Road Charlton 200m from the station
Contact abbswolf@ntlworld.com with questions for the WW Fans' Parliament minutes
THE PACK IS BACK!
Thanks to Brentford and friends at @Beesotted with 94th minute goal v Fulham
Wolves are again Premier League - pix Sky & Tim Spiers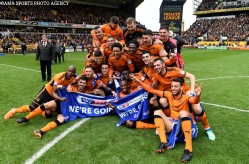 Nuno agreed the 2017-18 Meet the Players and Dave Slape arranged this for Friday 23rd February before the Fulham match Our thanks to Matt Wild Jeff Shi and Laurie Dalyrymple Pix on Facebook and the members' only website here


Londonw Wolves Meet the Players 23

rd

February 2018

London Wolves presentation to Wolves Women 20Jan2018 more pix Molineux Bluebrick



Dave made Twittersphere headlines after sending the Burton Bridge Inn staff a Christmas tip


FA Cup 3

rd

Round 6

th

(TBC) January home to Swansea City
Pictures of the Derek Parkin dinner October 6th which raised £6,000
30 years ago Bully joined Wolves -
28years ago he scored on his England debut and went to the World Cup
4 Stars for Wolves - Nuno, Neves, Jota, Bonatini
Great news 23/6/2018 from Carl Ikeme, now in remission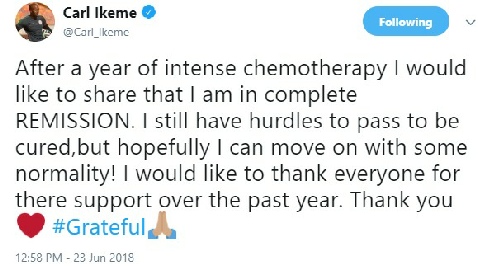 Our best wishes go to Wolves and Nigeria #1 Carl Ikeme now in remission who was suffering from acute leukaemia (Wolves statement here) . Wolves captain Danny Batth published this on instagram 9/7/17 Carl retired July 2018
And joined fans for the Man City draw
Saturday 24th June 2017 London Wolves Walk - Greenwich - pictures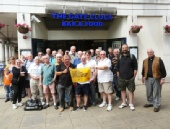 We raised a glass to "The Doog" on the 10th anniversary of his passing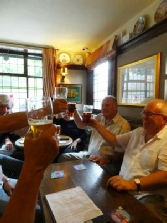 Fixture changes: see above
PSFs:
UhrenCup Weds July 10 6pm local ko FC Basel in Biel Tissot Arena W1-2
Sat July 14th Young Boys 16:00 Bern W0-4
Thurs 19 July Ajax 1 WW 1
Weds July 25th Stoke A D 1-1
Saturday July 29th Derby County A 3pm L 2-1
Sat 4th August Molineux tbd
Premier League Season kick off Saturday 11th August 2018 @ 17:30
Too may losses - fans turning online
Can Wolves realistically challenge for a playoff position next season?
Our friends from Wolves glory days at the 50th Anniversary dinner
And a Mike Bailey article on David Instone's site here
50th Anniversary pictures are here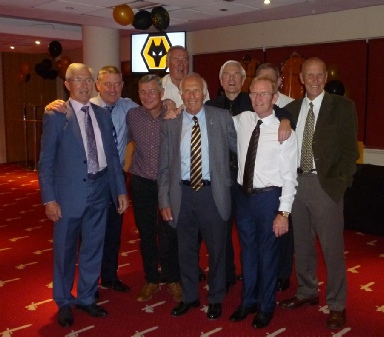 Former London Wolves Travel Secretary and Treasurer and
London Wolves FC Goal Keeper here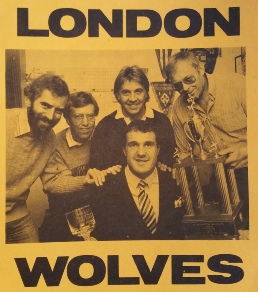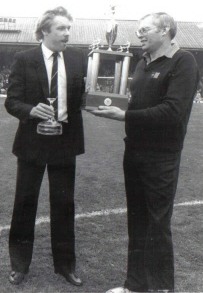 Committee Meetings committee meeting 12th April 2018
PLEASE READ IMPORTANT MESSAGE ABOUT EUSTON on the travel page here
A message from the Chairman:Members are reminded that while they are travelling, at the match, on the way, especially on the train, or even in the pub home or away they are seen to be representing both Wolves and London Wolves at all times, and are expected to behave appropriately. Complaints have been made about bad language on the train in front of other passengers. London Wolves support the Club's campaign to cut out bad language in the family areas and expect that to be respected and will take action under rule 5 if it is not.
Molineux Virtual Tour - all stands plus North Bank bar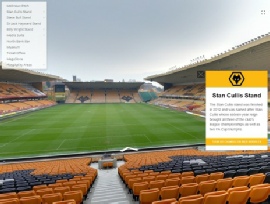 Signings (and rumours) 2018-19 Season
Wolves transfer rumours: 6/6/18 Benik Afobe (to Stoke one week after rejoining?) , Rui Patricio, Joao Cancelo and Goncalo Guedes www.expressandstar.com
Ins: Boly £10m; Afobe 12.5; Jiminez L; Patricio F; Jota 12.6; Bonatini U; Vinagre U; Moutinho 5; Jonny L, Zinchenko, Traore, Dendencker
Outs: Afobe L; Collins L; Seedorf L; Marshall L; Burgoyne L (injured); Douglas £6m; Miranda L
Ernie Hunt - Ernie, who played in London Wolves first official match at Molineux passed away on 20th June 2018. Mark Griffiths attended the service. Note Ernie's exit music…..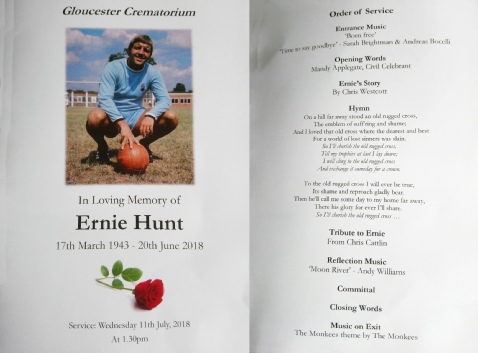 Men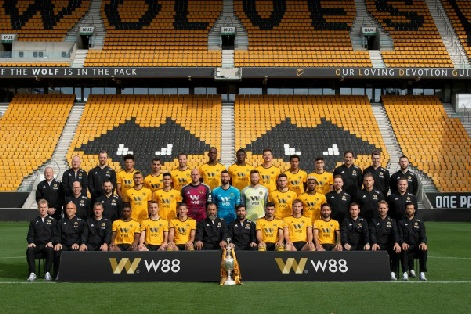 Ladies seniors